GENERAL TERMS AND CONDITIONS OF SALE FOR THE CAULAINCOURT.PARIS WEBSITE – France JUN 2015
If you order any goods offered on the www.caulaincourt.paris website in the Caulaincourt.paris e-store ("site"), you agree to be bound by these terms and conditions of sale ("terms of sale").
WHO ARE WE ?
This site is operated by SARL WHITE MARLIN ("CAULAINCOURT" / "we" / "our").  We are the supplier of the goods available via this site in the CAULAINCOURT.PARIS store.
---
USE OF THE SITE
Your use of the "caulaincourt.paris" site is governed by the present Terms and Conditions of Use.
---
WORD DEFINITIONS
In these terms of sale:
"Contract"
means the contract formed when we accept your Order by sending you our Order Acceptance by mail;
"Order"
means your order for goods placed via this site or by email, or by calling one of our shops. Telephone lines are open Thuesday to Friday between 11am to 14 pm and between 15pm and 19h30pm, excluding bank holidays;
"Goods"
means any goods available to purchase on this site;
---
INTELLECTUAL PROPERTY
All material on this site (including photos, texts etc.) are the exclusive property of CAULAINCOURT. You may not reproduce, totally or in part, distribute, publish, transmit, create derivative works based on, modify or sell any such material contained on the caulaincourt.paris website.
The " CAULAINCOURT" trademark, and all other CAULAINCOURT related marks and logos, whether or not registered, displayed on the site, as well as the domain names "caulaincourt.paris" and "caulaincourt-paris.fr" are and will remain the exclusive property of CAULAINCOURT. Any reproduction, distribution, transmission, modification or use of these trademarks of CAULAINCOURT is prohibited.
---
ORDERS
Orders may only be placed under these terms of sale by individual customers purchasing goods for their individual purposes. Any resale of Goods purchased following an Order under these terms of sale, is prohibited.
After placing an Order, you will receive an email from CAULAINCOURT that says we have received your Order.
The Order constitutes an offer by you to buy the Goods specified in your Order, on these terms of sale. All Orders may be accepted or refused by CAULAINCOURT.  We will only accept an Order after we have checked that the Goods are in stock and received authorisation to process your payment for the Goods.  When CAULAINCOURT accepts an Order, it will confirm its acceptance to you by email. Note that Orders placed on the website, outside our everyday business hours (Thuesday to Friday between 11am to 7h30pm, excluding bank holidays) will be processed the following business day.
The Contract between you and CAULAINCOURT will only be formed when we have sent the confirmation mail for acceptance, and not before.
If we are unable to supply all of the Goods listed in your Order, our invoice sent by mail will list only the Goods that are in stocks. All Orders are subject to availability.
If you have any questions about the Goods, please feel free to contact our Customer Service.While we put a particular attention to ensure that the colouring, design details of the Goods in the photographs displayed on the site are representative of the original Goods, variations may occur due to the technical restrictions of colour reproduction on any computer equipment, and due to the "made by hand" process (patinas).
For every Order, you must provide complete and accurate information during the ordering procedure. You must check that the information you provide accurately reflects your selection before placing your Order.
---
GIFT: OFFER "COLORLESS" SHOES, TO BE PATINATED LATER: HOW DOES IT WORK?
Would you like to give as a present a pair of shoes or a piece of leather goods that has not recieved its final color yet ?
Here's all you need to know about it:
1 / reminder
All our products are hand-patinated, an artisanal work consisting in giving the leather its final color, which will be the one chosen by the customer. Before this customization operation, the products are said to be "colorless", ie off-white color.
2 / the advantages of offering a « colorless » product, to be patinated later.
– the person to whom you offer it will have the pleasure of living the in-store experience, or simply choosing the shade he wants from among an infinite number of possibilities.
– if the size is not suitable, it is easier to exchange than a product that is already patinated.
– if the model is not suitable, it is easier to exchange than an already patinated.
3 / what is the process?
You order a product called "colorless" (ie before patina).
It is delivered to you with the « colorless leather », so that you can offer the product to its future owner and he can freely think about the patina of his choice.
The product is sent within 4 working days following the validation of your order.
Once in possession of the product, he can:
1 ° – Go to one of our stores indicating that the product has been purchased online, without color, speak with the person present to define the desired patina.
2 ° – Proceed by email, specifying the desired patina, screenshot attached, and return the package directly to our workshop (Caulaincourt: 59 avenue Kléber, 75016 Paris – France).
Note that the cost of returning to the workshop is your responsibility BUT we do offer you the shipment of your custome made shoes, to the address of your choice.
The patina period – 20 working days – begins upon receipt of your pair at the workshop.
---
SHIPPING / DELIVERY
We will deliver Goods purchased via the Site in the whole world.
Goods will be shipped to the delivery address specified during ordering.  For security reasons, CAULAINCOURT reserves the right not to process or deliver any orders that seems to be shipped at strange addresses.
Goods will be delivered using DHL service and there is a variable fee delivery cost for each country payable in addition to the cost of the Goods.
Depending on the product's category:
Your Goods may be sent within five (5) Business days regarding a "CATEGORY 1 Product"
Your Goods may be sent within twenty (20) Business days regarding a "CATEGORY 2 Product"
Products from Category 1 : Products that is not custom made
Products from Category 2 : Any product that is custom made (patinas etc.)
DHL will deliver your Goods within minimum 24 and maximum 72 hours from the moment they have taken the goods in charge, depending on the delivery address
ZONE you have chosen. Sometimes circumstances may restrict delivery service.
For delivery to ZONE 1: 24h / FRANCE
For delivery to ZONE 2: 48h / E.U
For delivery to ZONE 3: 72h / Rest of the world
Prices for shipping costs are calculated as bellow: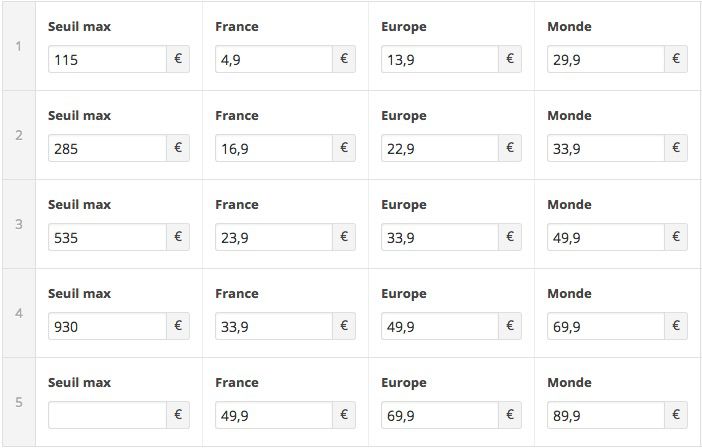 CAULAINCOURT reserves the right to divide your Order into several shipments.  Your credit card shall then be charged in accordance with the price of Goods actually delivered.
A failure to deliver the Goods within a period exceeding twenty (20) business days from the moment you received the DHL confirmation email should be reported to our Customer Service as soon as possible.  In order for your claim to be accepted, please notify us of the delay within a maximum of thirty (30) days from the date of Order.
You should check that your Goods are ok and complete on delivery.
If there are any problems with your Order when the Goods are delivered, you must note the nature of problem on the delivery note, and sign it.
You should then contact the Customer Service by e-mail.
---
RISK AND TITLE
We bear the risk of any loss of or damage to Goods whilst they are being delivered to you. This risk passes to you from the time the Goods are received or left at the delivery address specified in the Order Acceptance.  If delivery is delayed due to any act or omission on your part, we may either: (a) cancel your Order and refund any sums already paid by you, less any applicable delivery charges for the failed delivery; or (b) at our option, store the Goods at your risk and cost until delivery can take place and charge you any applicable delivery charges both for the failed delivery and any repeat attempt(s).
Ownership of Goods will only be yours when CAULAINCOURT receives payment in full of all sums due in respect of the Goods, including any applicable delivery and/or processing charges.
---
PRICES AND PAYMENT
Prices and any applicable delivery and/or processing charges will be available on the Site.
For orders that are shipped to a country outside the European Union, Prices will not include French VAT (20%).
Payment for all products must be made in EURO, using our online payment facility.  Please note that CAULAINCOURT only accepts payment by the following cards: American Express®, Mastercard®, Visa® and any currency conversion costs or other charges incurred in making a payment will be paid by you in addition to the price due to us.
If any of the Goods ordered are unavailable, you will not be debited.
The final price payable for your Order includes the delivery charge specified in paragraph F.5.  Processing and delivery charges are liable to change at any time (in which case the site will be updated), but changes will not affect Past Orders.
The site contains details of a large number of Goods and it is possible that some of the pricing and other information shown is incorrect. CAULAINCOURT will normally verify prices before sending the order acceptance. Where the correct price is lower than the price stated on the site you will be, of course, charged the lower amount.  If a price is higher than the price stated on the site, CAULAINCOURT may either (1) contact you to see whether or not you wish to go ahead with the Order; or (2) cancel your Order and notify you of the cancellation, in which case we will refund the price already paid by you (if any).
CAULAINCOURT focuses to ensure that its online payment facility is available and functioning at all times, but cannot guarantee continuous, uninterrupted access to such facility, nor can we guarantee that the facility is virus or error free.
You are welcome to create an account on the site in order to save your invoicing and delivery information for future Orders. You will be responsible for protecting the confidentiality of this user ID and any password or other security information used by you to access your account on the online payment facility. You will be issued with a unique user ID before you can use this facility. Any purchase made using this information will be considered to be done by you as the owner of the information.  If your password is lost, stolen or used fraudulently, you must inform CAULAINCOURT immediately. You may de-activate your account by sending an email to the Customer Service at any time.  After having desactivated your account, you are free to create a new.
---
CANCELLATION BY THE CLIENT
You may cancel any Contract for the purchase of Goods within fourteen (14) calendar days after the day on which you receive the Goods.
If you wish to cancel a Contract under this paragraph I.1, you must inform CAULAINCOURT in writing quoting the order confirmation number and promptly return any Goods you have already received, at your own cost, in the same condition in which they were received by you in their original packaging with original or copy of the relative invoice. You have an obligation to take good care of Goods while they are in your possession. If you fail to comply with this obligation CAULAINCOURT may have a right of action against you for compensation.  The cost of returning the Goods safely – except where the Goods are damaged, or incorrect – is your responsibility until received by us. In the case where you ask for an exchange rather than a refund, you also have the alternative option of returning the Goods to a CAULAINCOURT store.
If you cancel a Contract for normal reasons and having respected paragraph I.1, you will receive a full refund of the price paid for the Goods and shipping to you.
We will process the refund due to you as soon as possible and, at the latest, within 14 days of receiving your notice of cancellation and the relative goods. However, for Goods returned for exchange or a store credit at a CAULAINCOURT store, we are unable to refund the delivery charges.
You do not have the right to cancel a Contract for the supply of the following types of Goods:
Goods that have been custom made, altered to your personal specification, personalised or special orders ("Napoleon" Collection);
Faulty Goods
Faulty on receipt: If any Goods you receive are faulty when you receive them, you may reject the Goods by notifying us within fourteen (14) days of delivery. We will ask you to return the Goods to us. We will inspect the returned Goods and, if we agree that they are faulty, you will be entitled to a full refund, including any delivery charges, or you may request that the Goods be replaced at our cost.
Faults developing after acceptance: If you have not notified us of any defect within the fourteen (14) day period referred to in (a) above, it will be assumed that you have accepted the Goods.  If Goods develop a fault after you have accepted them, you should notify us as soon as possible after discovering the fault.  We will ask you to return the Goods to us, and:
If you notify us of a fault within six months of receiving your Goods, and we agree that the Goods are faulty, you will be entitled to have the Goods repaired or replaced. Where repair or replacement is not possible, or would take too long or cause too much inconvenience, you may be entitled to a refund.
If you notify us of a fault more than six months after receiving your Goods, you will not be entitled to a refund.
In all cases we will reimburse any reasonable costs you incur in returning faulty Goods to us, provided we agree they are faulty.
Where you are entitled to a refund, CAULAINCOURT will process the refund as soon as possible and, at the latest, within 30 days of confirming that you are entitled to it.
Unwanted Goods may also be returned to 59 avenue Kléber CAULAINCOURT store (75116 PARIS. FRANCE), for exchange or a store credit, within fourteen (14) calendar days following the date of delivery.  Please note that this option is not available for faulty Goods.  Goods returned to stores for exchange must be in their original saleable condition in their original packaging with invoice document, or copy. The stores cannot offer refunds for any Goods purchased under these terms of sale and under no circumstances will it be possible for the stores to credit your credit or debit card in respect of such purchases.
We do not currently exchange or allow refunds for Goods purchased in CAULAINCOURT stores via this site.
---
CANCELLATION BY CAULAINCOURT
CAULAINCOURT reserves the right to cancel any Order if CAULAINCOURT has reasonable cause to suspect that the customer is engaged on any not legitimate grounds.
---
CAULAINCOURT'S WARRANTIES
We warrant that all Goods will be conform to the descriptions set out on this site.
We will not be liable for or in connection with any defect or deterioration in Goods caused by :
fair wear;
damage to the Goods caused by you or any third party whether deliberately or by accident;
use of the Goods other than in the manner instructed or recommended by us.
any alteration or repair made to the Goods without our collaboration, or approval.
---
CUSTOMER'S WARRANTIES
Any personal information you provide to us will be complete and accurate.
---
CHANGES IN TERMS OF SALE
Occasionally we may be willing to change these terms of sale.
Where we notify you of the change to these terms of sale before sending you the Order Acceptance, we will assume that you have accepted the change to the terms of sale.
TERMS AND CONDITIONS OF USE OF THE WEBSITE "CAULAINCOURT.PARIS" and "CAULAINCOURT-PARIS.FR"
Use of the "caulaincourt-paris.fr" and "caulaincourt.paris" websites (hereinafter "our website") are subject to these Terms and Conditions of Use. When you use our website, you agree to comply with the said Terms and Conditions of Use.
CAULAINCOURT may update these Terms & Conditions of Use and Privacy Policy at any time.
---
SECURITY & PRIVACY
We warranty the privacy of the personal information you may give us trough your customer account.
---
ABSENCE OF WARRANTY
CAULAINCOURT cannot warrant or certify that the CAULAINCOURT website is free of viruses of any kind, or other material of a destructive nature.
Since our Goods are handcrafted, the colour of the leather samples shown on the Site may vary from the actual colours of the finished product, moreover if they are patinated.
Caulaincourt informs its customers that a shoe (or any other product made with patinated leather) may, if it is contacted with a light color surface (carpeting, sofa, shoes etc.) inappropriately (shoes on a couch for example ) causes color transfer, tasks and other inconveniences which Caulaincourt will not be held responsible for.
---
APPLICABLE LAW
These Terms of and Conditions of Use will be governed by and construed in accordance with the laws of FRANCE.