The SHOE CARE
Regular maintenance is certainly the best ally of your favorite shoes. There is a triple benefit: beauty care, as a quality leather beautify over time if we knew how to take care of; comfort, because what a pity to discard shoes that has become slippers over time, if you have not been able to provide them the care they deserve; and finally, life expectancy increased tenfold by rigorous attention.
A shoe care consists of three actions: clean, nourish, shine.
First step: you should prepare the shoes. Make sure the rough wooden shoe trees fill them correctly, and then, fitted with a soft brush, start by dusting the surface of the shoes and the edges of the sole.
Once done, you can proceed to the second step, the creaming. This is to clean the leather with a cream to nourish it in depth, and make it more resistant to the vagaries of everyday life. Using an old coton tee-shirt, massage the shoe by insisting on walking folds and seams. Be generous, leather absorbs quickly the cream.
We advise you to extend this step on the heels and leather sole.
You can leave dry a few minutes.
Then comes the last step, waxing. Now it comes to embellish shoes, highlighting the natural shine of the leather. Equipped with a soft cloth (an old poplin shirt will fit the bill), apply a paste wax on the entire shoe. It is very important not to overload the leather shine, so be sure to use it sparingly. Little trick to magnify your shine: you can drop one or two drops of water on the area of ​​the shoe you are about to wax to accentuate shine.
As creaming, do not forget to polish smooth and heels.
To complete the third step, you can make a glaze in order to accentuate the brilliance of the rigid parts of shoes (toe and heel counter). This very aesthetic finish requires a great deal of know-how and patience and will be a specific section.
It should then rest the shoes.
Once the wax dry, arm yourself with a buffing glove or, failing that, a soft cloth and vigorously polish the leather surface to reveal shine.
There you walk !
Et voilà !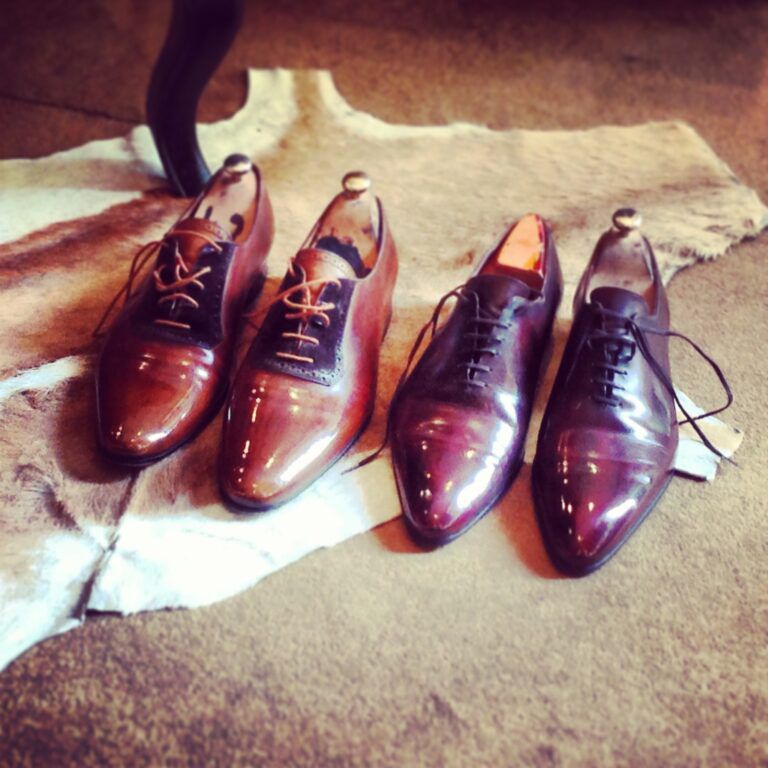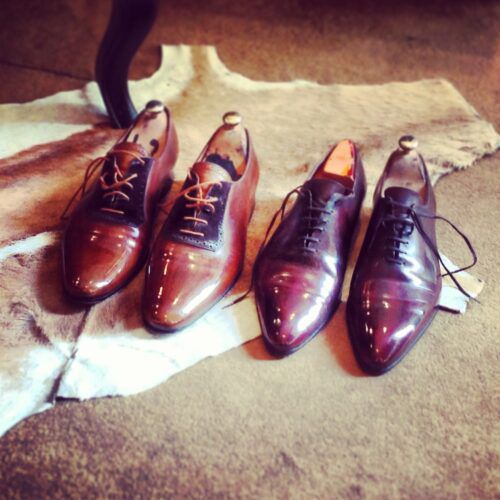 Christian Garcia, store manager at rue Chomel shop.