Pre-order
Hemingway commando
Pre-orders ended. We are in the process of making the product.
Estimated delivery between 10 and 17 April.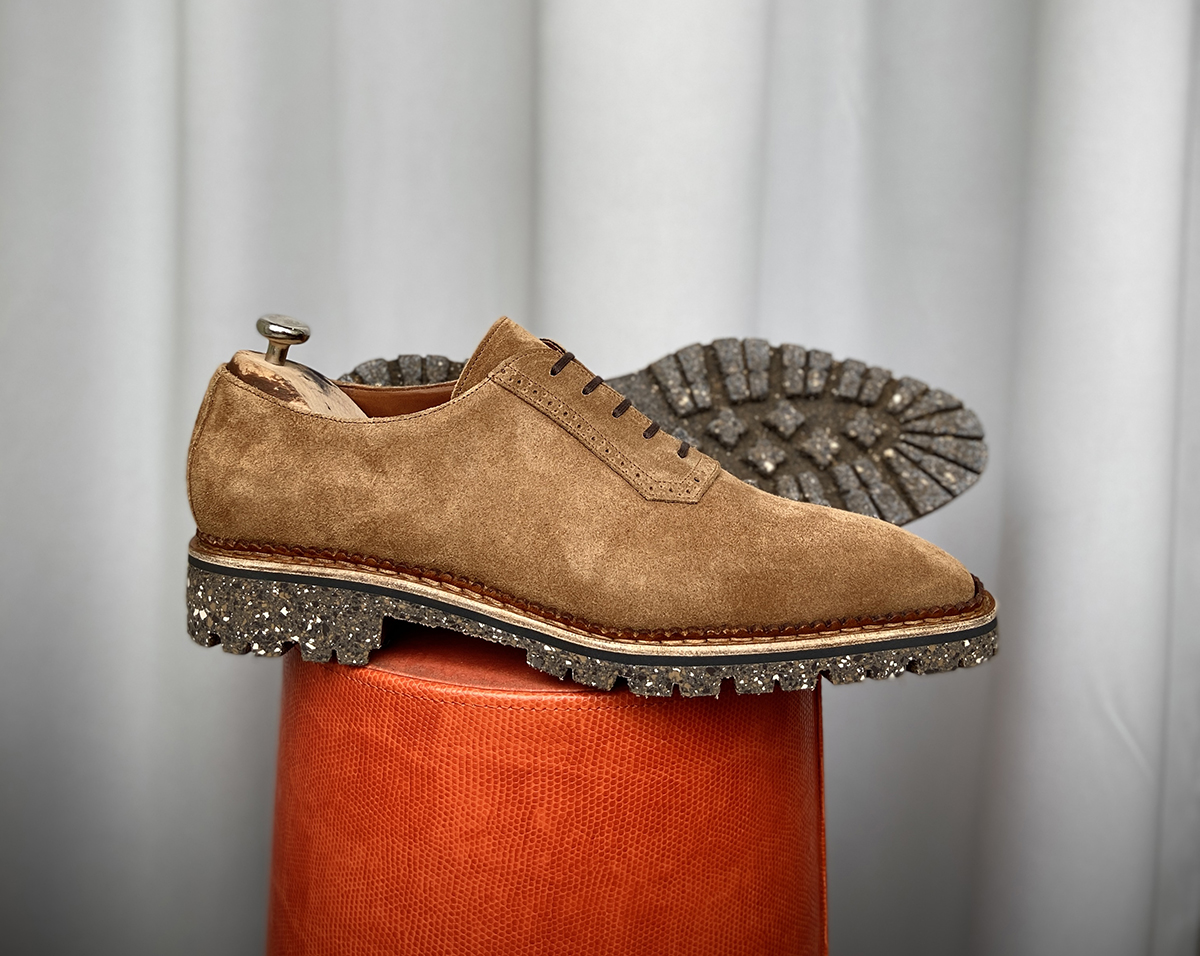 Caulaincourt Paris presents an exclusive reissue of what was for a long time a star model of our maison : the HEMINGWAY Adelaide oxford.
The Hemingway model was part of the collection for many years.
We are very happy to offer you today an exclusive version, never before published (nor ever published in special order for that matter), in pre-order.
What are the technical novelties of this exclusive version of our "Hemingway"?
As you probably know, we have a tough obsession at Caulaincourt: finding the best "hands" to create such and such an object according to its specificities. In other words, one cannot be strong in everything, and our "religion" consists in entrusting the manufacture of our shoes to absolute experts depending on the type of product.
For this Hemingway commando, we therefore naturally trusted our French workshop, the very one that manufactured the first Hemingway pairs 15 years ago.
We have dressed this shoe in a special leather: hazelnut suede calfskin from the Sciarada tannery in Italy. Both silky and supple.
The model is as beautiful in suede calfskin as it is, as in its reverse patina dress (i.e. with lighter ends); We leave the hard responsibility of choice to you.
The assembly is a combo: Blake welted with a "petit point" sewn welt associated with a crenellated stormwelt AND a Vibram commando composite rubber sole (i.e. from recycled materials) welded to the insole (in leather ).
The addition of the two makes it possible to give an "all-terrain" dimension to the assembly, extremely armored and infinitely resoleable. It contrasts with the "preciousness" of the stem, which gives it this seductive character.
The Heminwgay commando brogue is equipped this time with the 1827 last which is an eagle claw shape. For those of you who already have a shoe in this last, you can choose the same size! Anyway, if you already have Caulaincourt shoes, we invite you to click HERE to determine the right size.
The association with a "chic adventurer" outfit is its favorite use.
But above all, it's the type of shoe that will appreciate taking knocks, marks… in short, the longer it has lived, the more beautiful it will be.
Be careful, remember that suede calfskin is not afraid of water! so you can wear it in all seasons.
This pre-order will not be followed by any series.
Price: 585 euros / 487,5 euros ex VAT(with or without patina).

Remember: shipping is free worldwide when it comes to our pre-order proposals.
Pre-orders ended. We are in the process of making the product.
Estimated delivery between 10 and 17 April.
585 €