Pre-order
TOKYO WHITE LTD EDITION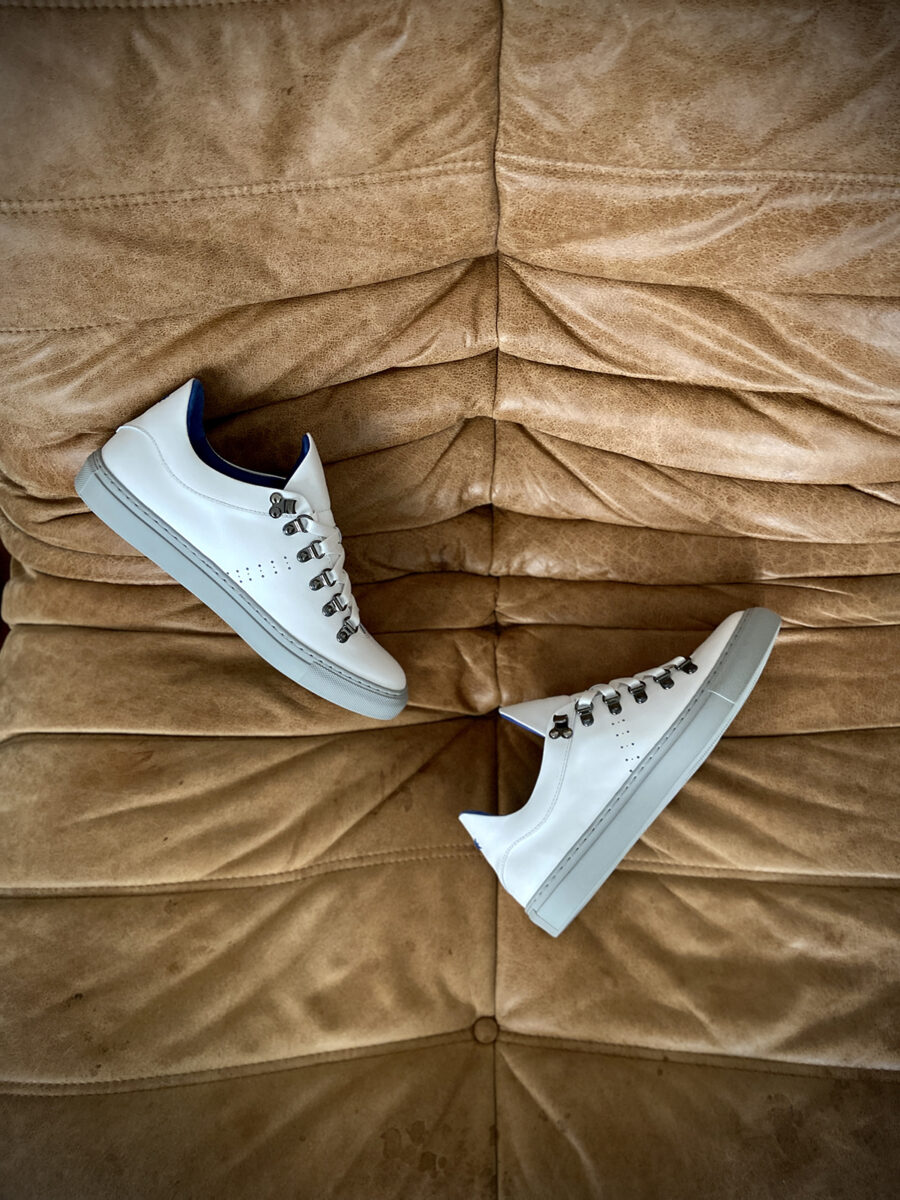 The TOKYO model is the first sneaker model from the house, which has since become an iconic model, produced in multiple versions.
We are very happy to offer you today an exclusive version, never before released, for pre-order.
What are the technical novelties of this exclusive version of our "Tokyo"?
We have dressed this shoe in a special leather*: white "box calf" calfskin. Both flexible and robust. Very easy to maintain, it can be cleaned with a cotton pad and lukewarm water.
*white leathers of this quality are extremely rare in the world of sneakers.

The construction welt is a classic with us, used on all "tennis" sneakers: an extraordinarily resistant MARGOM rubber sole, sewn, and resolable in addition. To enhance the whole and give it a more "dressed" appearance, we have chosen a gray sole.

The Tokyo White uses the shape of the classic Tokyo. Anyway, if you already have Caulaincourt shoes we invite you to click HERE to determine the right size.

As you probably know, we have a tough obsession at Caulaincourt: finding the best "hands" to achieve this or that object according to its specificities. In other words, you can't be great at everything, and our "religion" is to entrust the manufacture of our shoes to absolute experts depending on the type of product.
For this Tokyo White, we therefore naturally trusted our Italian workshop, the same one that manufactured the first pairs of Tokyo 6 years ago. A pair of sneakers made to last, for many, many years.
How to wear it?
The idea behind this version is to offer a white sneaker, a versatile shoe par excellence, without repeating what already exists everywhere (except quality)…
The play of colors and finishing details make it, in our opinion, a unique pair that you will wear very often, and for a very long time.
It will go just as well with a formal outfit as with a casual look. This is the strength of our sneakers.
This pre-order will not be followed by any series.
Price: 375 euros.
PS / remember: as with all our pre-order campaigns, shipping is free, worldwide.
Do you want to know more about the TOKYO model? click here.
375 €