Pre-orders ended. We are in the process of making the product.
Estimated delivery between 15 and 22 January.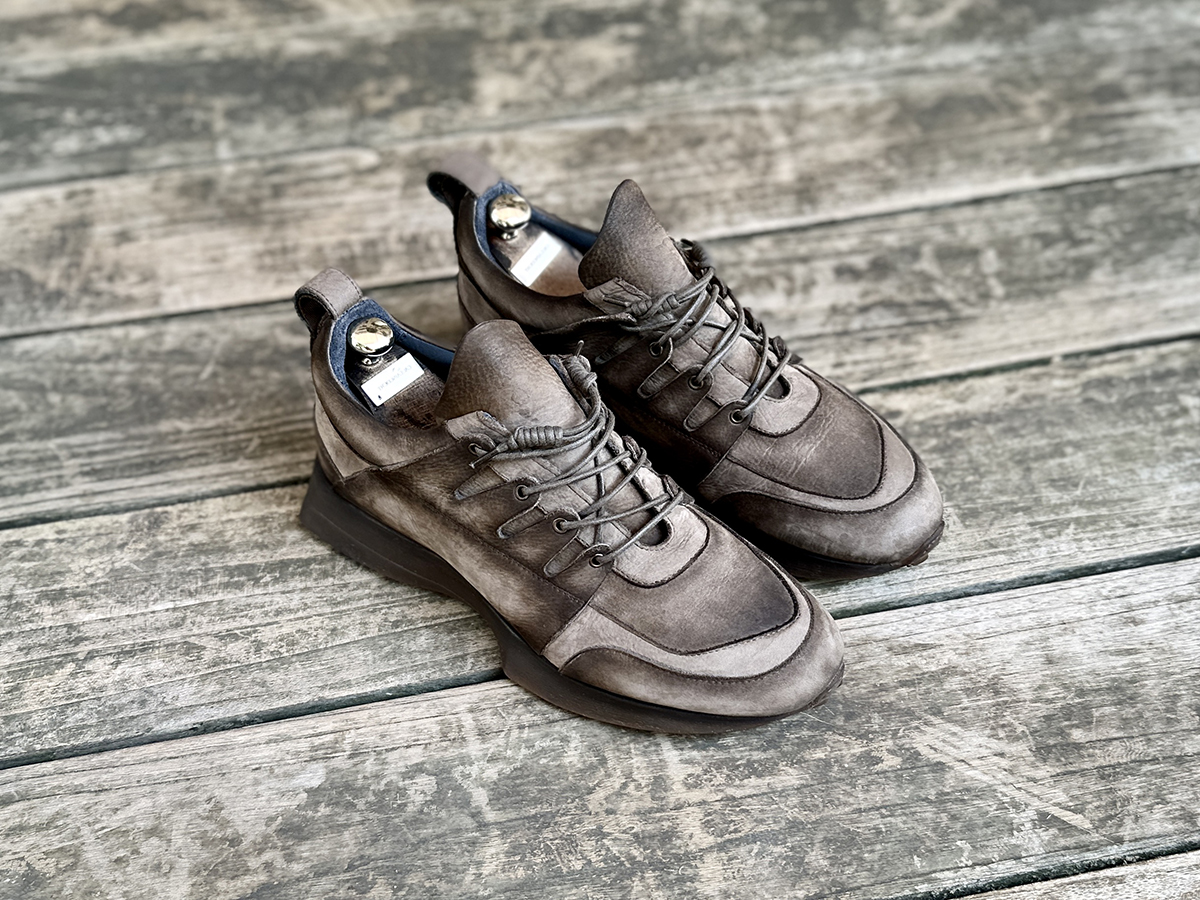 Caulaincourt Paris presents an exclusive edition of the Rackham model: RACKHAM IV.
The Rackham model was our first running sneaker model.
We are very pleased to offer you today an exclusive version, never before published, for pre-order.
What are the new technical features of this exclusive version of our "Rackham IV"?
We have dressed this shoe in a special leather: nubuck calfskin, patinated. Both flexible and robust. Very tough to evil, he will improve depending on the blows he receives.
This time the Rackham will receive a sole from LACTAE HEVEA*,
The Rackham IV uses the classic Rackham last. In any case, if you already have Caulaincourt shoes we invite you to click HERE to determine the correct size.
As you probably know, we have a tough obsession at Caulaincourt: finding the best "hands" to create such and such an object according to its specificities. In other words, we cannot be strong in everything, and our "religion" consists in entrusting the manufacture of our shoes to absolute experts depending on the type of product.
For this Rackham IV, we therefore naturally trusted our Italian workshop, the same one that manufactured the first pairs of Rackhams 5 years ago. A pair of sneakers made to last, for many, many years.
Learn more about this extraordinary sole.
Designed by Alexis Lafont (founder of Caulaincourt) for the "entreprise du patrimoine vivant" company "Lactaé Hévéa", it was developed using virgin rubber tree milk.
Cultivated in large tropical plantations, the rubber tree produces this gum with incomparable properties: it feels like you're walking on a Tagada strawberry, it's so soft and cushioning.
Harvesting rubber tree milk does not weaken the tree, but helps to develop it. When you reach one end of the cut part, the other end has finished regenerating.
No natural forest is taken. Through an entirely manual and environmentally friendly artisanal process, within a human-scale company, the LACTAE HEVEA® sole is part of a sustainable development approach.
The LACTAE HEVEA® sole lives and evolves to improve over time. Small visual imperfections, due to the natural origin of the sole, become real guarantees of authenticity.
This pre-order will not be followed by any series.
Price: 395 euros (329 euros ex VAT)
PS / remember: as with all our pre-order campaigns, shipping costs are free.
Pre-orders ended. We are in the process of making the product.
Estimated delivery between 15 and 22 January.
395 €